Contact Us
If you wish to contact us at St. Wilfrid's Church, you may do so using the following information;
Address:

St Wilfrid's Church
Sherborne Road
Parklands
Chichester
West Sussex
PO19 3AG




Tel N°:


01243 783853
Priest-In-Charge
Fr. Mark Gilbert
Honary Assistant Priests
Fr.Maurice Clarke SSC
Fr.Stephen Guise SSC
Licensed Reader
Barry Langley CoR
Churchwardens
Karen Dimmock
Felicity Fox
Hall Bookings
Annette Moranne
Website and IT
Tom Dimmock ·
David Fox ·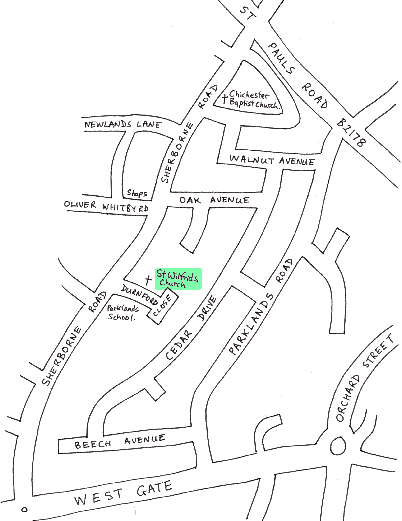 Services
Sunday 10.00am · Sung Mass
This is our main weekly celebration and includes worship for young people. Everyone is welcome, families, including babes in arms, the young, the elderly, the married, the single-no-one should feel unwanted or uncomfortable. After Mass there is a cup of coffee and a time to get to know one another.
Tuesday 7.00pm · Said Mass
This Mass is celebrated in our Lady Chapel, offering a precious opportunity in our busy lives for prayer and reflection during the week.

Wednesday 10.00am · Said Mass
This mid-week service offers an opportunity for some of our retired members to meet together informally, and to enjoy a period of fellowship and a cup of coffee after the service.

First Thursday of the Month
There is a 12.30 pm lunchtime Mass at St.Bartholomew's Church on Mount Lane just off Westgate. This is a quiet, informal service said on behalf of the community at Chichester Further Education College on the 1st Thursday of the month.

Friday 9.00am · Morning Prayer
This short 15-20 minute service is followed by Said Mass at 9.30am.
Sunday 8.20am · Breakfast Taize
A Celebrational Eucharist run jointly with St. Pauls, followed by a Bacon Buttie! Runs fortnightly either at St.Pauls, or St.Wilfrids. Click Here for Dates