About Fr.Phil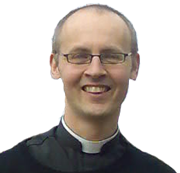 Father Phil was born and brought up in Coventry where he lived until the age of nineteen. After studying for a degree in Politics and Religion at Manchester he did a PGCE and became a secondary school teacher near Bolton.  He taught RE, PSE and Sociology.
From 1995 to 1996 he spend two years with VSO teaching English in Tanzania.  His wife, Paula taught at the teacher training college while he cycled through the cashew nut trees to a little local secondary school.
Returning to England in 1997 he completed an MA at Sussex University in English Literature and then worked for a year as a filing clerk near Brighton.
He trained for the priesthood at the College of the Resurrection in Mirfield, West Yorkshire. After leaving Mirfield he became assistant curate at St.Nicholas, Brighton, what was the old parish Church of Brighton on Dyke road.  In 2004 he became Priest in Charge of St.Wilfrid's in Chichester, working one day a week as Chaplain to the nearby FE college.
He is also a Governor at Parklands community Primary School and Bishop Luffa Secondary School.  He is married to Paula and they have three children.
In August 2008, Phil left St Wilfrid's to become Priest in Charge for the large parish of All Saints Church in Hove
Services
Sunday 10.00am · Sung Mass
This is our main weekly celebration and includes worship for young people.  Everyone is welcome, families, including babes in arms, the young, the elderly, the married, the single-no-one should feel unwanted or uncomfortable.  After Mass there is a cup of coffee and a time to get to know one another.
Tues-Thurs 9.10am · Morning Prayers All Welcome. This short 15-20 minute service is the ideal way to start the day.
Tuesday 7.00pm · Said Mass
This Mass is celebrated in our Lady Chapel, offering a precious opportunity in our busy lives for prayer and reflection during the week.

Wednesday 10.00am · Said Mass
This mid-week service offers an opportunity for some of our retired members to meet together informally, and to enjoy a period of fellowship and a cup of coffee after the service.

First Thursday of the Month
There is a 12.30 pm lunchtime Mass at St.Bartholomew's Church on Mount Lane just off Westgate.  This is a quiet, informal service said on behalf of the community at Chichester Further Education College on the 1st Thursday of the month.  

Friday 9.00am · Morning Prayer
This short 15-20 minute service is followed by Said Mass at 9.30am.
Sunday 8.20am · Breakfast Taize
A Celebrational Eucharist run jointly with St. Pauls, followed by a Bacon Buttie! Runs fortnightly either at St.Pauls, or St.Wilfrids. Click Here for Dates